These rules should be used to explain to customers without technical understanding the way in which search engines like Google and Bing work and what a good SEO service provider does exactly. 
They should understand what is involved with more effort and why some things take a few days until they fall down and other months or even years.
You will see that search engine optimization is, in our opinion, more concerned with the correct provision of information and usability than with tricks. 
The goal of probably the most important search engine, Google, is to make valuable information available. 
Search engine optimization should help to present this information as optimally as possible. We will show that basic usability factors and a good information architecture, as well as good SEO content, are much more important than technical tricks and hidden tricks. 
We know that other companies continue to offer "old school" search engine optimization tactics, most of them so-called BlackHat optimization (ie spam). 
Rule 1: Be organic!
Search engines, especially Google, are very interested and deploy a lot of resources in fighting spam. They do everything to avoid spam. 
Google can now categorize websites relatively well. A portal like aol.com or a new page like marketingwithjoy.com works differently than a company website. 
On a new page, Google assumes that every day a certain amount of new content is added, with a company presence website, Google is relatively relaxed.
What does that mean? 
Google must protect itself from spam. This is what Google does by analyzing how "normal" or "good" websites work and how "spam pages" work. Typical characteristics of a bad website: Both the number of websites and the number of incoming links are increasing. So a growth is not organic and Google spam filter strike alarm.
Now you will say, "But then there would never be a new website up and I know X counterexamples." Then you name some! Most of the larger websites that have recently been made have done this with the help of a manual release or it is a page that is "in trend".
Now you will be wondering, "How does Google distinguish the non-organic growth of a spam page from a normal page?" This is not so difficult. Google uses its " Google Trends " service. Type a search term, for example, your name. Immerse yourself there, recognize Google that you are a trend and then you can also grow to a certain extent.
If your websites are not part of a trend, you should definitely try to achieve organic growth.
If two do the same, it is far still not the same! For the reasons mentioned above, if you have a small website, you can not simply look at the methods of large websites and you have to take a different path.
Not everything is done by Google through artificial intelligence /robots and technically, but there are thousands of quality advisers who rate your website manually. An important criterion here is, whether one is spammy or not, how active it is.
A website that operates a blog and is otherwise active in the scene is rated higher than a "dead" company website.
Tip: Add new, valuable content to your website steadily and organically!
Rule 2: Get to know your users!
Search engines try to identify for which target group you are writing your content and search engines analyze whether you target your audience well. Of course, the links that point to your website are of course mainly used, but search engines also try to make qualitative analyses, eg about the visitors' time on your website (bounce rate and CTR). The closer you know your target group, the better.
You should use analysis software like Google Analytics. Use this analysis tool to improve your usability and analyze if your website is optimal for users. Eliminate every barrier. Far too often, we make the discovery that webmasters believe your users "find the information already".
Bottom line: Better information you offer to your users the better does it also with the search engines.
Rule 3: Avoid SEO Rankings barriers!
This tip sounds banal at first sight. Everyone who has a little bit about search engine optimization knows that you have to make your website SEO friendly. The reality, however, looks different. Here are the main barriers to search engines:
Flash: Google can theoretically index Flash movies. A possible indexing, however, does not have nearly the same power as "normal" text. Avoid FLASH and convert the content to HTML 5.
Frames: If your website has a special frame structure: frames are only partially tracked by search engines. If you use the so-called NoFrames section, you can place text and links to subpages there. This results in the search engines tracking these links and indexing more text on your website. There are still some examples where frames "work". As a rule, however, these are historical reasons.
Iframes: Iframes have nothing in common with frames, despite the name. Iframes are usually not indexed by search engines and should not be used for this.
Large image files: On very large image files, search engines swallow themselves regularly. Avoid!
Long loading times: The size of a website is also important. Unclog your websites and streamline the code!
Session IDs: Google can now deal with session IDs. But the IDs of JSP pages make Google even more. Google recommends the "id" parameter to name a session variable. It is even better to hide the session variables and use them only for the actual shopping process.
Slow web server: loading times are becoming increasingly important for Google. The website spider from Google is pissed off when he has to wait because that eats resources. Pay attention not only to the download time of the HTML file but also to the loading time of your javascript, the speed of internal redirects and the DNS server speed. 
Tip: Google Webmaster Tools shows you the speed at which Google indexes your web pages and whether problems occur.
Long parameter chains: In many online shops you still see URLs like shop.php? Cat = 3 & sid = 999383838393 & product = 786 & land = en or similar. Use so-called URL rewriting to convert this URL to readable forms like shop/category/product/blue-sofa. This is very important if you want to optimize a shop for search engines!
A useful tool that you should use is Google Webmaster Tools. Google tells you where there are problems. Which websites can not be spidered and how Google sees your website.
Rule 4: Internal linking
A search engine takes a picture of a website. A search engine tries to "understand" how the structure of a web page is. How the web page is nested and structured. Help the search engine by editing your structure.
Use navigation with text instead of using your navigation points graphically. Use a sitemap. This is not "Google Sitemaps", but really a normal sitemap.
And keep in mind a good rule: Vary your link text. If you always use the same link text, a search engine can interpret this as spam.
The best way to create a seo matrix is to assign a search term to each individual web page, and link to the website to be optimized from any other web page that contains the search term. 
You should check this article to find out more about tiered linking structures.
Rule 5: "Content is King".
This rule applies just recently to the popular search engine,  Google. It would be conceivable to create a special workflow by publishing the article. As in the case of link popularity, the focus should also be on "organic" growth. 
The "organic growth" is also why customers should be looked after long term. Since you need to focus on your core competency, you do not have the time to worry about when which link was placed on your website or what cycles your website needs fresh content.
Rule 6: Links, links, links, and links!
Links are the "currency" in search engine optimization. The more links from other websites to your website, the higher they rank a search engine in the importance.
The so-called off-page optimization ensures that a search engine evaluates the value of your website relative to other competitors as high as possible. The higher a search engine is, the higher the corresponding keywords are displayed in the search engine results pages.
Until now, most search engine optimizers have opted for "on-page optimization", this optimization is becoming increasingly important - and the importance of off-page optimization is increasing. The most important parameter for good off-page optimization is the number and quality of links that point to your page. Google measures this popularity through the PageRank. 
Even if PageRank is not available for public anymore, Google still use it internally. Along with other 200 SEO ranking factors.
Please avoid spamming. Go ahead and create good content or interesting tools that will get you "automatically" to the left of other websites.
It is much better to use classic PR work. You want good users to come to your website. Getting more and more "legal" is so-called link baiting. This is the "begging" of links. But if you have good content or good content, begging for particularly fertile ground.
Rule 7: Let the world know you're here!
To date, websites have not been registered directly with any of the major search engines. There is a registration form on the Google website, but only the own website can be entered here. In practice, the robot moves a search engine along the links to a website and then takes the pages of the search engine. No links, no indexing.
Google can, however, use Google Sitemaps to index your pages. This means that Google will now be able to transfer every file on the server for information, even important additional parameters are also available. So you can specify how often a file changes, how current the file is and how important it is.
 All this information has not yet been provided. This makes a lot easier for the webmaster of a website. However, Google Sitemaps ensures only quick indexing. Google Sitemaps does not improve your search engine positioning.
Rule 8: Do not be too old-fashioned!
 Many search engine optimization experts are old-fashioned. You have read or heard a tip somewhere, and therefore follow this tip for years to come. What was to-day may no longer work tomorrow? Or even worse what works today may harm your website rankings tomorrow.
For instance, web directories: Web directories backlinks worked great for many years but this technique was abused so it is now possible that a link can do more damage if you do not do it right.
The same is true with the so-called OnSite optimization. There are still SEO experts running old school SEO. These include inserting keywords into legacy image tags, the excessive use of awards such as strong, bold, and italic, keyword density, and many other factors.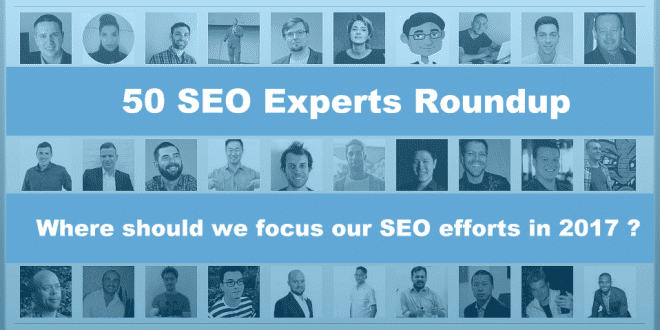 Want to stay up to date with SEO trends? Check the 50 SEO Expert Roundup on what works in 2017.
Search engines use very sophisticated methods. As far as search engine optimization is concerned, you already have 95% of the success, at least in terms of OnSite optimization, when you put your keyword in the title tag of a website, once in an h2 excellent heading and a few times (keyword density approx -4%) in the text. 
A good editor who writes professional web texts does this anyway.
Rule 9: The right target group/keywords!
Semantic searches get a growing weight on Google. 
How to determine the correct KeyWords?
With a keyword research tool. 
For example, you can use an independent keyword research tool or Google's own Keyword Planner. A keyword research tool will show you which search terms are really useful to search engines. The Google Keyword Database allows you to enter only your website, and Google will then show you the search terms relevant to you.
Analyze your conversions. 
Go to your traffic analysis program. For example Google Analytics. Go into sources and see which keywords add a conversion to your web page by organic search users. These keywords are similar to a keyword database and you already have a very good keyword base.
Rule 10: Have patience and analyze!
I know a lot of  SEO Experts, who read in a forum any "hot tip" and then implement it. If you see a few days later changes in the search results lists of Google you can do this on your changes made a few days ago.
All search engines and Google, in particular, change the rankings of websites in very long time periods. Until a link from another website hits your website, months may pass, because Google must first index the link, which takes time and then iteratively takes it into account only at the next evaluation round.
Hope this ten SEO rules will help you have a clear understanding of how the search engine works and how you can optimize your website for better visibility. If you have questions regarding SEO please check our SEO Forum. We answer all the questions from our members.
You like to write about Investments, Online Trading, Finance, Business, Digital Marketing or Crypto-currencies? Check our Write for us page. We'd love to share your knowledge with our audience.